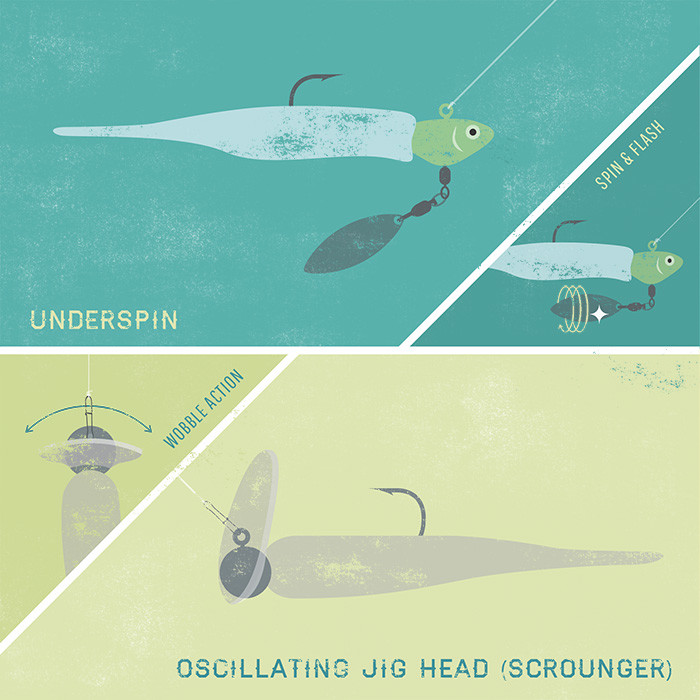 #24 – Underspins & Oscillating Jig Heads for Winter Bass
By Michael Wood | Creator of Fish Cacher
There are few things more exciting than blast off from the ramp in the spring. But I absolutely love wintertime fishing! When the warm long days, Pontoons, & Jet Skis are gone from my Lake, it's time to put the boat in the water and catch big Largemouth and Stripers! For me it starts around Thanksgiving and lasts up until tournament season.
While everyone else is throwing jigging spoons and jerk baits; I'm thinking about Underspins & Oscillating Jig Heads. Tackle Warehouse is the best place to start your search. My favorites are the Fish Head Spin and Fish Head Shaker by Sworming Hornet, and the Scrounger by Luck E Strike. I also like the Su Spin Blade & the Fish Head Dude. In general; I don't fish these jig heads heavier than 3/8, with ¼ oz being my preferred.
When it comes to soft baits; I DO NOT LIKE PADDLE TAIL SWIMBAITS. First of all; I have never seen a fish swimming around my lake that had a paddle tail. But I have seen plenty with a split fork tail. Most of the Lakes in the South East become quite clear in the winter; so a natural presentation is extremely important. For that reason; I almost exclusively use minnow/fluke type soft baits in the 4-5 inch size. In my opinion, scent is important during the winter; so I really like flukes that have the scent built in. Zoom, Lunker City, Bass Assassin & the Power Bait Jerk Shad for larger scroungers all work. As far as colors; Albino, Shad, & White are good options. But my absolute favorite is the 4 & 5 inch Shad Impact by Keitech in Wagasaki & Ayu. An exception to my paddle tail rule is the 3.5 inch Keitech Swing Impact. Pair this with 1/8th oz Fish head Spin and you have something deadly. I have caught some of my largest winter bass on this combo while they were feeding on huge 12 inch Gizzard Shad. Go Figure!
For the smaller Scroungers and Underspins I use P-Line Halo in 6 # test. For everything else I use 10 & 12 lb Halo with bait casting gear. I use 7ft rods and I want to make as long a cast as possible and then slowly work the bait back to the boat. Try to fish the entire cast; as they like to follow.The areas I like to fish are flats in 15 ft. near creek channels adjacent to the main lake that have stumps. I usually keep my trolling motor running on really low speeds. I find if you turn it on and off a lot it will scare the fish. Anytime, you can get up wind of your spot and leave the trolling motor completely off is better. This is especially true of stripers, which are extremely "boat aware" in freshwater impoundments.
Through the use of the Fish Cacher App; I have found Bass to be quite predictable in the winter. They tend to return to the same areas and bite during the same times year after year. So get yourself some hand warmers and hit the lake!
---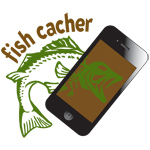 Fish Cacher is the go to APP for serious Anglers & beginners alike. Years of testing has produced an easy-to-use design allowing the Angler to discover patterns that catch fish. Simply by taking a picture of a catch; Fish Cacher will automatically retrieve date, time, gps waypoint, weather conditions, solunar data and much more. Fish Cacher is available on THE APP STORE as a FREE install. For an in-app purchase of $2 the Pro Model can be revealed. Coming soon to Android!
If you enjoyed this post, be sure to follow Fish Cacher on Facebook & Twitter for more updates.
Here are some recent LUNKER catches using Underspins and Scroungers along with the Fish Cacher app!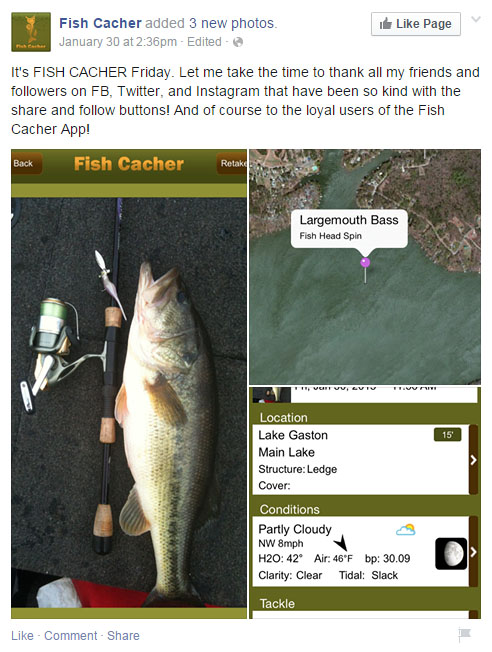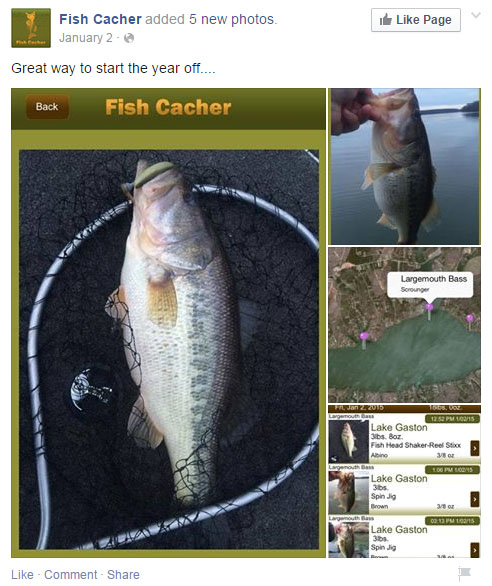 ---