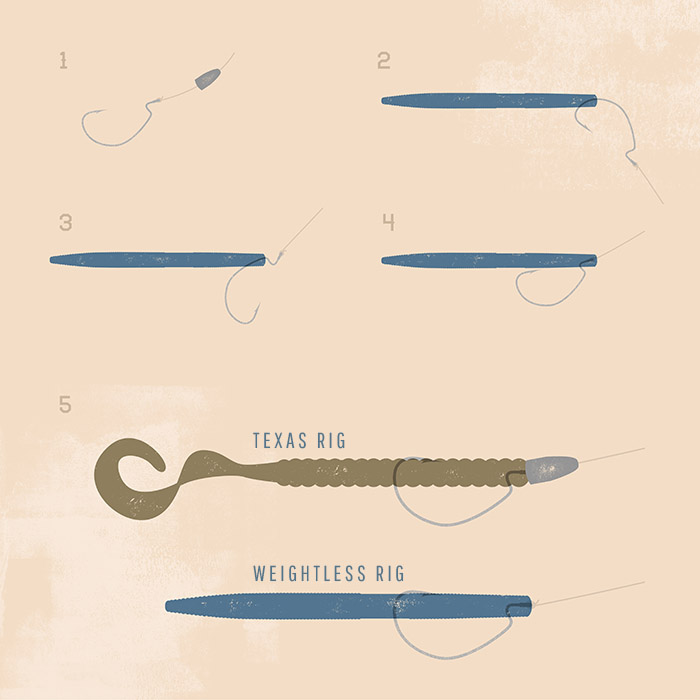 #8 – Texas Rig
The basic Texas Rig – Probably the most universal technique used to rig soft plastic lures. Every angler should have this one down.
1. Slide a small bullet weight onto your line and tie on the hook using a knot you are comfortable with.
2. Insert the hook point into the nose of the lure and poke it back out the side of the plastic about 1/4 of an inch down.
3. Slide the nose of the lure up toward the eye of the hook.
4. Rotate the hook as you slide the nose over the eye. The hook should now be pointing toward the body of the lure.
5. Insert the hook back through the body of the lure. Bend the lure so the hook enters at a 90 degree angle. Once the hook is through, tuck the point back into the top surface of the lure to prevent snags in the water. The lure should sit straight on the hook when done correctly.
The Texas rig can be adapted to just about any soft plastic lure and different sizes/types of hooks. If the bite is slow, the lure can be rigged on lighter gear without the bullet weight (weightless rig). This will allow for a slow, more natural fall of the bait that leery bass can't resist. A&L will cover more advanced rigging techniques and variations in future posts.
Earlier this month, A&L connected with Jacob Wheeler, professional bass angler and recent winner of the Bassmaster BASSfest on Chickamauga Lake. Jacob shared his favorite soft plastic rig on Twitter.

What is Wheeler's go-to rig? A Trigger X Flutter Worm rigged weightess on a 4/0 extra wide gap VMC hook.

Thanks, Jacob!

Be sure to follow A&L and Jacob Wheeler on Twitter for daily updates.
@AnglesandLines
@WheelerFishing

---