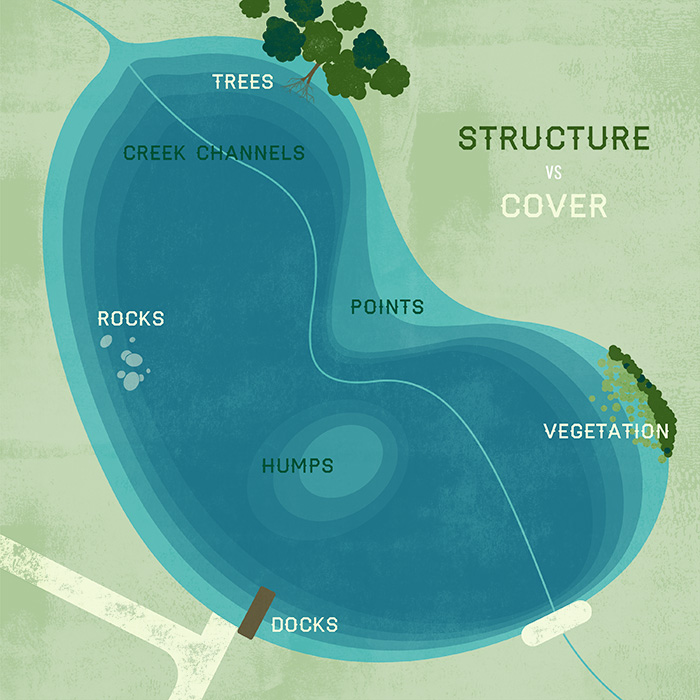 #15 – Structure vs Cover
You may hear fishermen at your local lake use the terms "structure" or "cover". "We were flipping and pitching around cover" or, "We caught them on some main lake structure". Cover and structure are terms for underwater features that bass relate to throughout the year. While some anglers may use the terms interchangeably, they generally mean two different things.
Cover refers to objects that help conceal bass. Think hide-and-go-seek for fish. Common features that hide bass include trees, rocks, vegetation, docks, etc. Fish hole up in these areas in hopes to ambush prey.
Structure is any change in the bottom contour of a lake. This includes points, humps, creek channels, ledges, drop offs, and more. Bass use these features as pathways for seasonal migration or daily searches for food.
Finding both elements in one area can often be the key to a successful day on the water. Does your lake have a rocky point? a weedline on a channel bend? a submerged island full of tree stumps? There are an unlimited number of structure/cover combinations out there. Examine lake maps and use keen observation when you are on the water to find various hot spots. A&L will provide more tips on how to find these key areas in future posts.
What kind of unique structure or cover is in your favorite fishing hole?
---