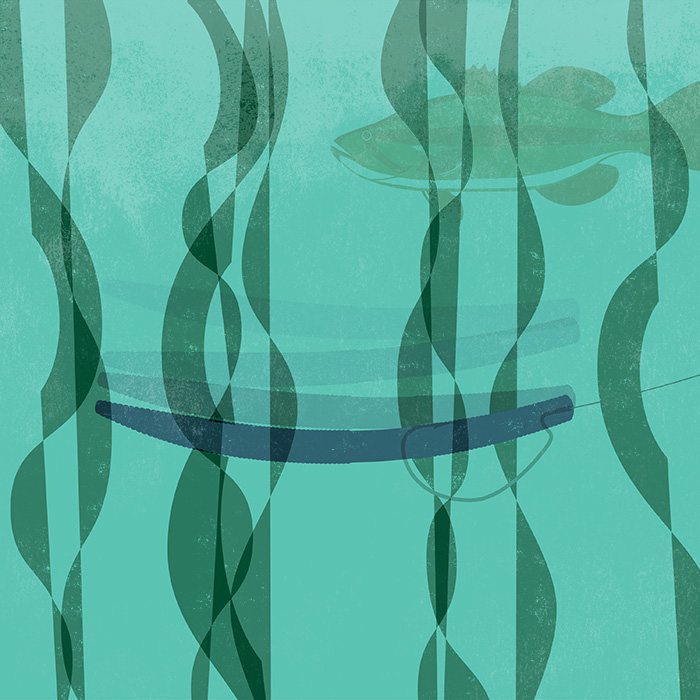 #10 – Soft Plastic Stickbait
If you haven't started fishing soft plastics, you could be missing out on a huge opportunity to catch bass. A great lure to start with is the soft plastic stickbait, commonly referred to as a "Senko" (after the popular Gary Yamamoto lure). Rig this guy without a weight and it will slowly flutter and fall in the water in a horizontal position. This falling action can be extremely enticing to nearby bass.
Start off by rigging the lure weightless. Its bulky shape is heavy enough to cast with a basic spinning reel.
Don't be afraid to cast into vegetation and other cover with the weedless rig.
Once the lure hits the water, let it sink on semi-slack line. Most bites will be subtle and come on the initial fall, so pay very close attention to the line as the lure sinks. Any sudden stop or funny movement in the line—set the hook.
If there is no bite on the initial fall, let the lure sit for a moment and simply raise your rod tip to lift the lure and let it drop again. An uncertain bass may reconsider after seeing the falling action multiple times.
There are many different ways to fish a soft plastic stickbait that we will cover in the future. Starting with the weightless rig will help you get a feel for bites and structure under the water. Start off slow and methodical and don't be afraid to set the hook when there's an odd feeling on the other end of the line.
---