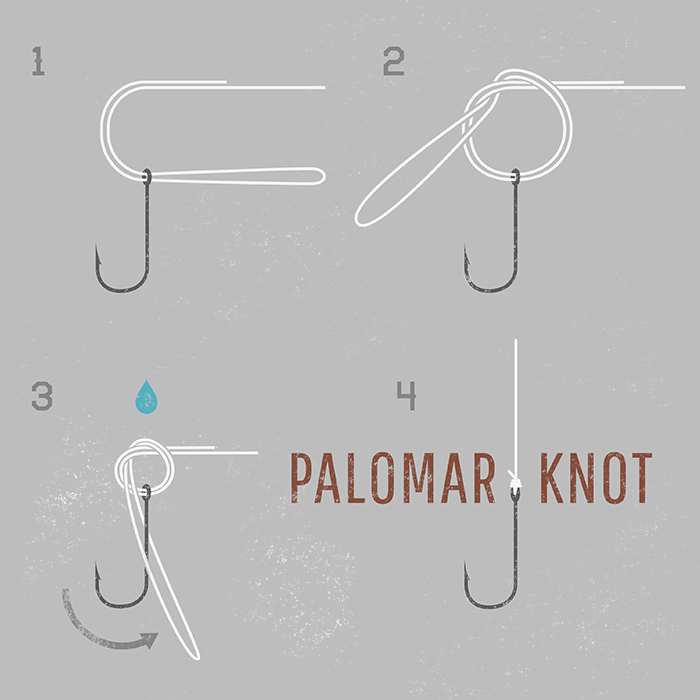 #13 – Palomar Knot
The Palomar Knot is a great all-around knot. It's simple, strong and suitable for most any fishing application. It isn't perfect for EVERY situation, but this is a great one to use if your knot knowledge is limited.
Here's how to tie it:
1. Run the end of your fishing line through the eye of the hook and then back through that eye to create a loop.
2. Take that loop and tie a simple single overhand knot between it and the two pieces of line opposite the hook. Do not tighten.
3. Send the hook/lure through the remaining section of loop. Be sure the loop is above the knot before tightening.
*If you are using fluorocarbon line, be sure to wet the knot (saliva counts) before cinching it down. Fluorocarbon can be very brittle. The moisture will cut down on the friction created by cinching the line down on itself–resulting in a stronger knot.
4. Hold the the hook in one hand and the two free ends of line in the other. Pulling in opposite directions, SLOWLY tighten the knot down making sure it comes together cleanly. Trim the excess piece of line a couple millimeters from the knot. BOOM, you have a Palomar knot.
For you knot know-it-alls, do you have any modifications for the Palomar?
---