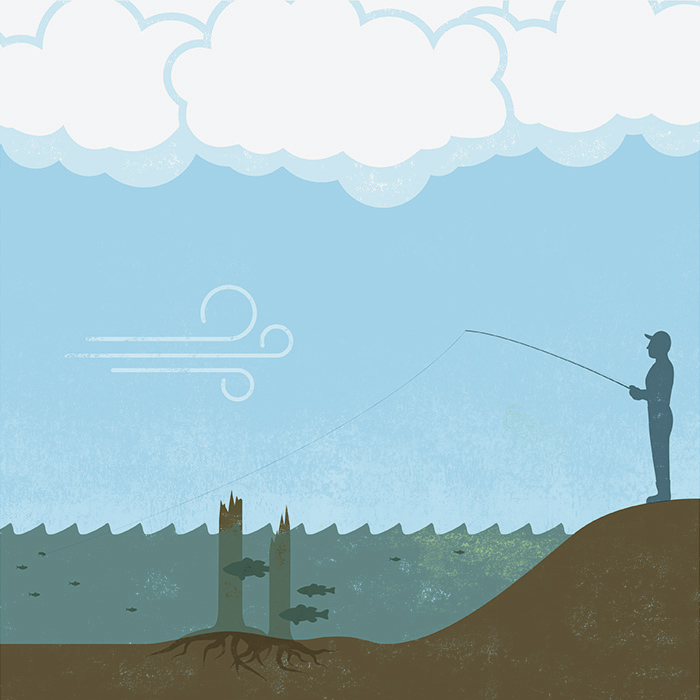 #14 – Fishing in the Wind
The wind is blowing across the water, your boat is drifting all over, and you're having trouble making accurate casts. The bass probably aren't even biting, right?
Well suck it up. Bass are not bothered by the wind. Wind can actually create an ideal environment for bass to feed. Ok, you get what I mean. Use your head. Don't fish in a cyclone.
Tiny organisms like plankton and algae are pushed by the wind. Therefore, wind blown banks, cover or structures will gather bait fish that follow these organisms in search of food. What's following the bait fish? You guessed it… bass.
Bass can predict baitfish movement when wind is present. They will position in areas where they can ambush prey moving with the wind (behind wood, rocks, points, etc.).
Wind does two other things that help bass prepare to attack. It stirs up mud and sand producing cloudy water. It also creates waves that break up the surface of the water allowing less light to pass through. This helps the fish feel more comfortable moving around under the surface.
Try casting into the wind and retrieving your lure past cover or structure.
So what should you throw? Think about a lure that mimics a bait fish and is heavy enough to cast into the wind. That could be a crankbait, spinnerbait, swimbait… whatever you are confident in.
Next time you're standing or floating in the wind, don't get discouraged. Think murky, dark, aerated, fish-filled water. Position yourself accordingly and give it a go.
*An exception to this idea would be a cold north wind in the spring that sends bass back into their winter hideouts. More on this in future posts.
What is your favorite windy day bait?
---