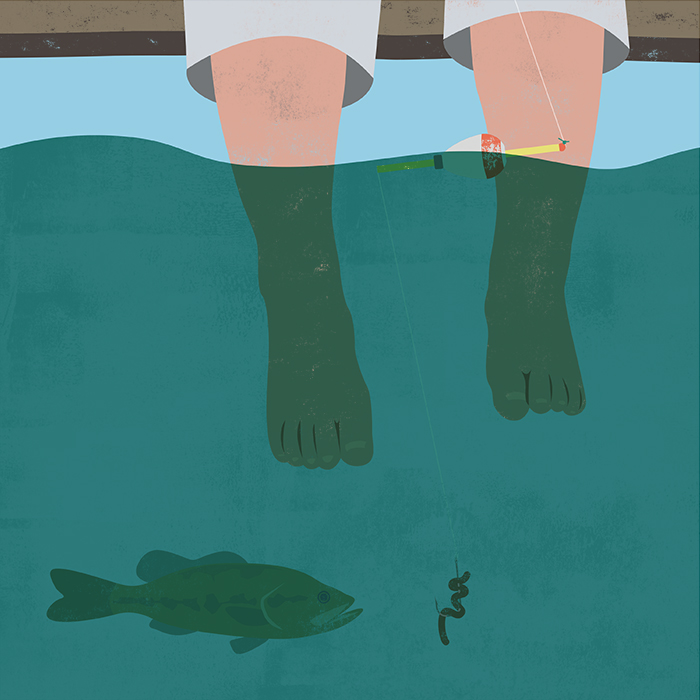 #20 – Fishing for the Next Generation
By Jon Evans of Austin, Texas
As a father it is very important to me to lead my two boys (6yrs & 4yrs old) and sometimes my daughter (2yrs old) into moments of adventure. As a boy, some of my best moments came around the peripherals of my father fishing. My dad would bring me along, and for me the the adventure came through almost everything other than actual fishing. I would push a stick around in the dirt, flip rocks over and look at bugs, we would encounter a snake, he would pull the occasional tick from my scalp, and then – all of a sudden – he would call me over and let me reel in a bass or look at the fish he pulled in.
Fishing puts us in touch with the history of our ancestors and connects with the deepest parts of the primal – hunter and gatherer – imprinted in our human spirit. Passing along the art and skill of catching fish with our children puts a responsibility on us to keep the love for fishing alive. A selfless act to put aside the lunker, catch of a lifetime large mouth bass agenda and focus on the family and others. So it is crucial for me to carve out time and intentionally load up the bobber and worms on the ultralight gear (small weights, small hooks, and 4in finesse worms, tiny flukes, small cranks) in search of perch and the occasional small LMB.
The first goal for me in the process is to take my child (alone away from siblings) on their 2nd birthday and get them on a fish. I'll take them to the sports store and let them pick out the pixar disney rod and reel combo of their choice, get the assorted neon bobbers, and size 8 hooks. Take them over to the serve-yourself bait fridge and show them the styrofoam container of worms, and head out. Then we look for a perfect bank spot by the dock, tree, grass line, or cover. I take the time to explain when the bobber goes down it's a fish, try to keep the slack out of the line by ever so slightly reeling, and at the right time try to pull back on the rod. Then we make some casts until the bobber goes down. Then once reeled in, when the fish comes out of the water, inevitably they will be stoked and also a little afraid. I'll hold the sunfish and let him carefully touch it, not trying to force him to hold it, but to encourage him to look at its beauty and feel the texture of the scales. As we catch more, I will start to be a little less hands on. Eventually at some point after a few outings they will become comfortable enough to cast, bait the hook, hold the fish, or let it go. I'll monitor the progress on those things patiently waiting to give them more of the experience as it presents itself.
I carried on this tradition for each of my three children on their 2nd birthdays. Over time, each time we go out we experience a new space of nature in a new environment. I encourage my children to point out the different animals they see and teach them about species of plants and trees. Along the way we are careful of our surroundings and the dangers of critters and poison ivy. We have a tradition of bringing a small bag with us to pick up our trash and make a point to pick up others trash. I want them to understand the importance of preserving the environment and to leave it better than we found it.
Here are my 3 kids on their first fish at the age of 2:
As we go out, I give each of them at their age appropriate level, more and more responsibility. I allow them to have their own space. To move around the banks away from me (but not too far). To make their own casts. It is totally fine if they don't want to fish and play in the dirt, or with sticks, or sit and watch. I want them to play on mother earth's great playground.
Here are a few more pics of them a little more grown-up on fish they caught all by them selves, from cast, to hook, to retrieve, to un-hook, to picture, to release:
As a father this is something I take great pride in. Something that connects me with my children, to something bigger than all of us. It is something that was passed down to me that I am passing along to them, that I hope they pass along to their children. The time we spend fishing together is frustrating, having to deal with tangles and them casting into the trees. It is disappointing, there are days where we catch nothing or loose the big one. But at the end of it all when it's after their baths and they are laying in bed and they look up at the end of a fishing adventure and they give the unsolicited, "I love you dad", few things in this world brings me more joy.
Fishing for the next generation.
---