ABOUT ANGLES & LINES
DISCOVER THE GREAT SPORT OF BASS FISHING THROUGH COMPELLING ILLUSTRATIONS.
Bass fishing has become one of America's most popular freshwater sports with the industry steadily growing larger than any other type of freshwater fishing. It's easily accessible to people of all ages with skill levels ranging anywhere from casual weekend fun to a competitive lifetime careers.
I'm hooked on bass fishing. My goal through Angles & Lines is to support the future growth of the industry for generations to come by educating anglers through clean, compelling imagery paired with tips & tricks discovered by fellow anglers everywhere. Do you have a tip or tactic you would like to see illustrated and shared on Angles & Lines? No matter your skill level, if you have some bass fishing experience you would like to share with other anglers, I am open to collaborating with you!
Send your topic ideas to tips@anglesandlines.com.
---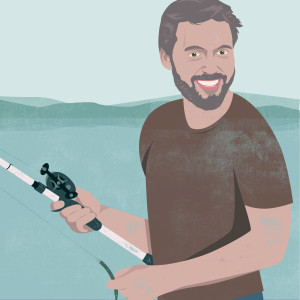 MORE ABOUT THE ILLUSTRATOR
Jaron Barnes

Bass fishing is a problem solving activity. You try different approaches and techniques each time you're on the water, and in return, learn something new with every cast, pitch, or flip. In many ways, I find the basic principles of fishing can directly relate to solving design and illustration problems. It takes special insight, attention to detail, an open mind, and sometimes, just a bit of luck. I grew up casting in ponds and creeks of rural Ohio before moving on to fish for the Kent State University Bass Team in college. I have since used my education to work professionally in the world of branding and design. I solve creative problems Monday through Friday, but on the weekends you can find me on the water searching for green fish. View more of my work at jaronbarnes.com
Special thanks to fishksu.com and dobass.com for the positive impact on my life as an angler.
---