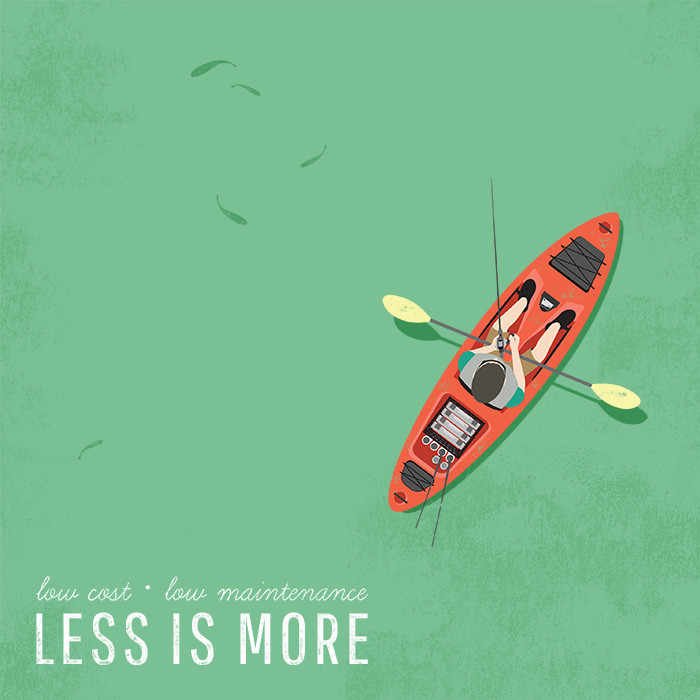 #31 – Kayak Fishing. Less is More.
Article by Jonathan Aljets
On any given summer day on Ladybird Lake, it's easy to get a glimpse of the one of the fastest growing outdoor sports in America – Kayak Fishing. Paddle boarders, rowers, kayakers and sailors meander up and down the riverbank like water bugs skimming just above the surface, all while kayak fisherman navigate the busy company to their favorite spots.This rise in popularity is do to kayak fishing's key selling points: low costs / low maintenance, it's accessibility to all ages and its naturalistic quality of being human powered.
Kayak anglers are former bank stompers, glitter boat captains and john boat defectors as well as newbies enticed by the call of the wild. They're fishing from kayaks now because it offers them access to water previously unreachable at level closer to where fish are. If you're looking to join the club and get a kayak of your own – like I did, I've written down a few tips that will help you get started.
Choosing A Kayak
It's all about you – the type of fishing you do, the type of water you have access to, your size, your demands and your budget. With that in mind, here are a few things that may help you make your decisions.
When choosing a kayak consider what type of water you will be fishing in most often (Ocean / Large Lake / Small Lake or River). For large bodies of water a 12-14ft kayak will offer better speed and tracking. For small lakes and rivers, where maneuverability is vital, consider a kayak 12 ft or less. Portability is a factor that can be overlooked – consider the weight, where it will be stored and how it will be transported. Generally speaking, the width of the kayak is an indicator as to how stable it is. Conversely, a narrower kayak will have better speed and tracking. The ability to stand up in the kayak and fish is a decisive advantage over sitting but be sure to take a test ride to know for sure. For me, portability and stability are really important. I like to make quick trips after work, so it's nice to be able to one-arm my Jackson Coosa  (Length 11'2" Weight 64 lbs) into the back of my truck and be on with it. It's also a very stable (Width 32") kayak with a large open deck to stand and fish. Whichever kayak you choose take a day to learn the boat on a calm body of water. Find out where the tipping point is and practice an open re-entry back into the kayak until you've got it down.
What You Need
While not required to be worn in some states, you should always wear a PFD. It won't do you any good otherwise. It has to be accessible at the very least. I recommend not purchasing a cheap PFD just to get you on the water only to spend more money later on a PFD that you will actually wear. This is one item you will not regret spending little extra on. Also, you will need an audible signing device (a whistle attached to your PFD), a coast guard approved navigation light and a fishing license. Always have a plan and tell someone where you're going. Don't underestimate mother nature's ability to wreck a trip. At a minimum keep a flashlight, a decent amount of drinking water and a first aid kit around, in case you get caught off guard.
Rigging a Kayak
Before we get further into the weeds with lists and bullet points, consider this Miesian quip: "Less is More." Fishing is not a passive sport. There are hundreds of decisions to be made over the course of a day, let alone accounting for a bunch of gear on a kayak in open water. Simplify where you can and you'll have more time to focus on your safety and those little green fish.
A lightweight paddle will save energy over the course of a day and the appropriate paddle length will depend of the width of the kayak and the height of the seat more than the size of the paddler. For a kayak 32" wide or more, a 240cm or longer paddle would be preferable. Take a couple of test paddle strokes to make sure there isn't a conflict before you start drilling holes for rod holders and such.
The milk crate is your best friend. It works great for storing tackle and staging rod holders and can be easily secured with a bungee. Best part is they're easy to find and if you look around at enough gas stations you can usually find one. I attached Geartrac on the top of my crate so I can store my tackle, rod holders and other accessories all in one place, limiting the number of trips I have to make when loading.
An anchor can be any number of things; a dumbbell, a sash weight or a rock. Just remember to be wary about tying the anchor off to the middle of the kayak, especially in fast moving water. I've used a number of different anchor lines, I've found a floating nylon anchor line will not twist and tangle as much as dock line or paracord.
Some additional items:
Anchor Trolley  / Drag Chain  / Rudder / Stake-out Pole; Great tools for positioning the boat.
LED Lights; Great for visibility while night fishing, it also attracts lots of bait.
Fish Finder; Not required to catch fish but it sure does help.
Silent Traction  ; Sound travels farther underwater and fish can be easy to spook. I
Bungee / Leashes; Secure anything you would go swimming for, so you don't have to get wet.
Remember to practice Catch-and-Release! Here's a tutorial on a technique called CPR  , commonly used in kayak fishing tournaments as a way to record the length of the fish and then safely release it back into the water.
Also, check out what HOW, Hero's on the Water, is doing for veterans and see how it relates to kayak fishing.
---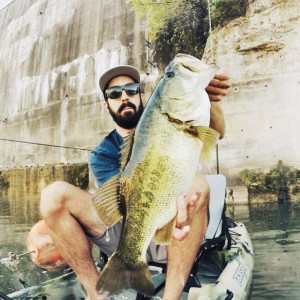 Jonathan Aljets is an Architect and freelance designer from Austin, Texas. An avid kayak angler, Jonathan's aim is to bring creative and thoughtful design to where he enjoys spending his time the most, on the water.
---