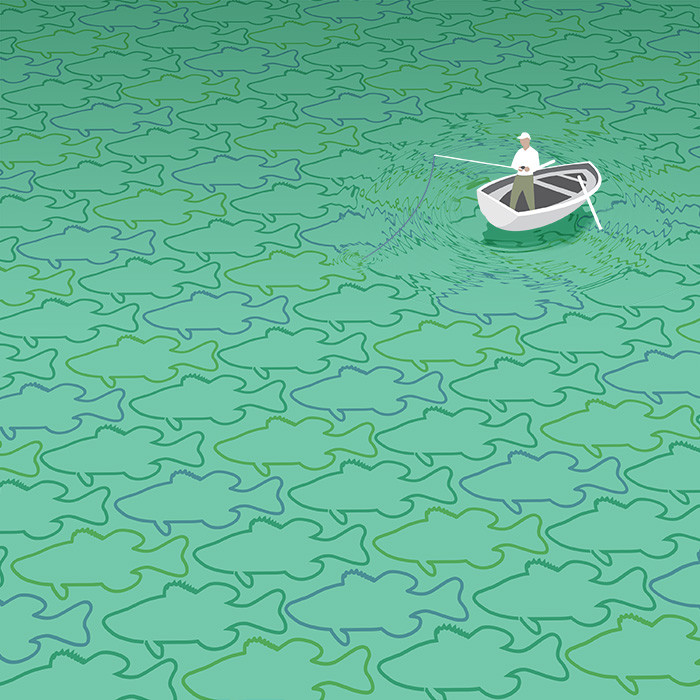 #27 – Pattern Fishing
Pattern fishing is all about finding consistency in the fish you're catching. Repeating these consistencies throughout the day or on different parts of the water will usually help you land more fish. A pattern could be as simple as learning that you have to throw fast-moving baits for reaction strikes or dark colored lures in muddy water. However, a pattern could be complex and made up of several variables. Example: throwing 4" green pumpkin colored swimbaits, with the current for suspended fish at exactly 10 feet deep. It's important to consider all the factors that went in to catching a fish. You may need to test more than one variable in order to find the similarity that catches you more fish. Example: you might catch a fish on a Senko and assume that fish are targeting that lure all over the lake. After going a while without a strike, you remember that fish was caught near a submerged brush pile. You might end up tying on a jig and catching tons of fish near submerged brush around the lake.
These are all hypothetical scenarios… NOT meant to be used as foolproof recipes for catching bass. Bass are living creatures and are therefore unpredictable at times.
The most successful anglers in the world use patterns to catch more fish. In order to be a great pattern fisherman you'll want to keep a fishing log to help you keep track of patterns you've developed over time. A fishing log is a collection of data points that can be used to spot patterns in your fishing habits.
Some of these data points might include:
Data about the fish
Weight
Length
Any physical features that tell you about spawning stage or it's diet
Data about location
Weather Conditions
Air Temp
Wind speed/direction
Precipitation
Moon Phase
Water Conditions
Water Level
Water Temp
Clarity
Current
Lure Data
Lure Type
Lure Weight/Color
Retrieve Speed
Specific Techniques Used
Etc, Etc, Etc…
Diligently tracking these data points for every catch will help you develop patterns over time and undoubtedly increase your success as a fisherman. It's also fun to look back and see how you've improved each year. A simple fishing log could be started using a small paper journal. If you are the tech savvy type, you can take advantage of some of the emerging technology with smart phones that allow you to quickly log information while on the water.
---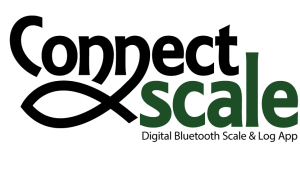 There are many ways to keep a journal of your catches to record your favorite spot or reflect back and try to identify patterns. If you are tired of recording all your fishing trip data by hand, and often miss out on the chance to weigh your fish because of the time and hassle it requires, then consider using the ConnectScale to help solve those problems for you.
The ConnectScale digital fishing scale and app automatically logs the weight, date, time, air temp, and GPS location of each fish you catch. The log and summary reports will help you remember each fish you bring in, enabling you to learn more about your fishing success. Cloud based storage allows you to access your history from any device. Having this type of information at your fingertips can help you remember important information about previous fishing trips, which should increase your catch rate in the future.
Benefits of ConnectScale:
· Simplifies and automates the logging process of capturing key data points.
· If you are a conservationist and/or practice Catch and Release, the ConnectScale helps shorten the time a fish is out of the water.
· Provides easy to filter and sortable catch log data while also providing analytics and summary reports that would take a long time to generate if using a manual journal.
ConnectScale will be launching this summer. Use this link to get 10% off ConnectScale here through Angles & Lines!
---